ADVANCING HOW WE MEASURE AND INTERPRET PROPERTIES OF WATER, VAPOR, AND ICE
Water is life. By studying how it moves and carries other elements through the Earth's ecosystems and by measuring its properties in various forms, scientists unlock important insights about the planet's past, present, and future. Picarro Water Isotope Analysis Systems enable researchers to accurately measure δ18O, δ17O, δ2H, and 17O-excess in water quickly, simply, and without sample conversion. Their small, light, robust design makes them ideal for lab and field work. And, with a comprehensive selection of compatible peripherals, and ChemCorrect post-processing software, the Picarro systems can process just about any type of water sample.
INNOVATION, PRECISION AND HIGH THROUGHPUT
For over 20 years, researchers and scientists have trusted Picarro's CRDS technology to deliver exceptional precision and sensitivity in a small footprint. New Express and Survey high-throughput modes enable Picarro Water Isotope Analysis Systems to process more samples faster.
Patented CRDS technology delivers highest performance and precision, and lowest drift measurements

Unparalleled speed allows processing of up to 900 injections per day

Multi-species, real-time continuous analysis

Straightforward and infrequent calibrations

Carefully selected sample handling materials and coatings for fast response

Form factor suitable for mobile and stationary deployments

Fast start-up and easy-to-use interface

Proven track record of international deployments

Simple software command easily switches modes

ChemCorrect™ software

identifies organic interference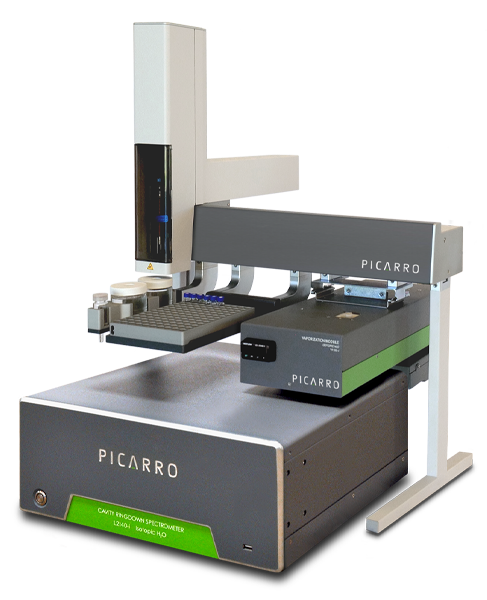 FASTEST, MOST PRECISE ISOTOPIC WATER ANALYSIS SYSTEMS
Isotope and Gas Concentration Analyzers
Express and Survey High-Throughput Modes Available
ONE DESIGN FOR MULTIPLE APPLICATIONS
 The isotopic water analyzers are Picarro's flagship products—and for good reason. They have established themselves as the "gold standard" in measurement technology in hydrology, ocean science, and paleoclimatology. Picarro Isotopic Water Analyzers have been deployed for a wide range of applications all over the world, including: to identify the influence of sea ice on ocean water vapor isotopes and Greenland ice core records; to reconstruct paleo temperatures through a triple isotope (δ2H, δ17O, δ18O) study on precipitation, drip water and speleothem fluid in a Central European cave; to map nutrient dynamics and residence time of the water in the Sacramento-San Joaquin River Delta.
ISOTOPIC WATER ANALYSIS SYSTEMS RESOURCES